PROJECT OBJECTIVES
Active and autonomous mobility is fundamental for the physical, social, cognitive and emotional development of children and contributes to forming a positive relationship between the child and their city
CLIMB aims to render the mobility of children safe, social and fun, positively exploiting the neighborhood as a smart community (involving family, volunteers and school) and information research results as transformative technologies 
CLIMB integrates technology and advanced IT solutions (e.g., Internet of Things, Internet of Services, Gamification), placing them in service to the community to provide a more participative, effective and dynamic management of children's mobility.
MOBILE APPLICATION
Provided to volunteers to
simplify the daily operation
of the Walking Bus itself:
Organization of volunteer shifts and substitutions
Maintaining the bus route and sequence of stops
Tracking the children's attendance in the daily diary
Maintaining contact information of all parents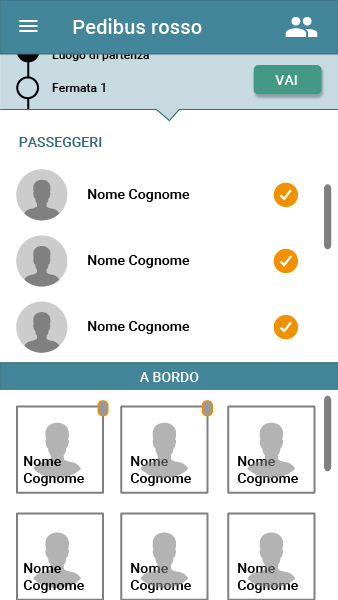 SMART TAG
Smart, wearable devices use proximity sensors to allow the automatic detection of children joining the walking bus and support the automatic completion of the walking bus daily diary.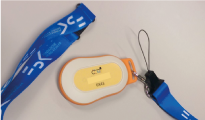 KIDS GO GREEN
The kilometers travelled by each child using sustainable transportation, e.g., by foot, bike or on the schoolbus, contribute to progress on a virtual, educational journey to places in the real word. Stops along the way allow the discovery of cities, countries, and places, conveying the value of the collective sustainable kilometers travelled to date.
The game is supported by a platform that captures the sustainable kilometers of each child, managing progress in the game and, through a Web App, displaying the achievements on a multimedia, interactive map. The integration of the App and the "Smart Walking Bus" allows the automatic collection of the kilometers completed by children and volunteers of the Smart Walking Bus.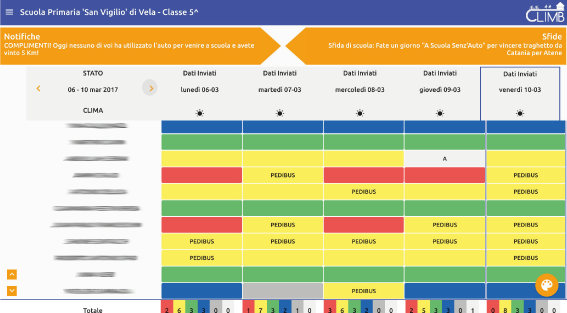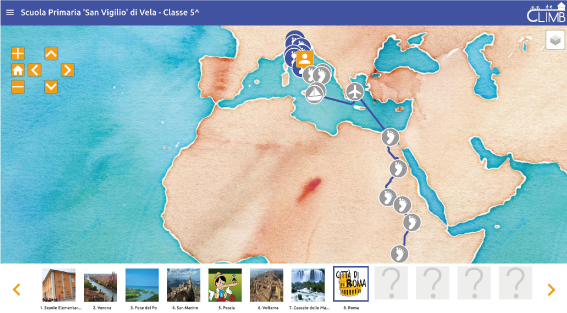 PRELIMINARY RESULTS
EXPERIMENTATION IN MEANO
The Blue Line of the Walking Bus at the "De Carli" primary school in Meano, Italy adopted the "Smart Walking Bus" solution in 2015. A total of 40 children and 22 volunteers were involved in the first experiment, working alongside FBK researchers in the planning and realization of the first "Smart Walking Bus".
EXPERIMENTATION IN VELA
Starting in the 2016/17 school year, the "San Vigilio" primary school in Vela, Italy adopted the "Smart Walking Bus" on three routes. The entire school, a total of 95 children, also participated in a virtual walk with the Kids Go Green game, traveling over 8000 from Vela to their partner school Kangole, Uganda, giving the children the opportunity to discovery Italy, Greece, Egypt, and many African countries.
AWARDS
Thanks to the CLIMB project, the Comune di Trento received an important national recognition with the award from the "Associazione Comuni Virtuosi" (Associazione of Virtuous Communities) in December 2016, being classified first in the category of "mobilita' sostenibile" (sustainable mobility).
Trentino – 20 dicembre 2016: Il piedibus hi-tech da a Trento il premio comuni virtuosi
il Dolomiti – 21 dicembre 2016: Trento il premio comuni virtuosi la mobilita sostenibile
A project in cooperation with
FOR ADDITIONAL INFORMATION: